The Epitome of True Italian Craftsmanship Meets Cutting-Edge Technology
Black Nova Keypad and Touch Panels
Black Nova keypads and touch panels are not just ordinary tech products; they stand as a testament to the harmonious blend of exquisite Italian design, first-class materials, and avant-garde technology. Now, with their integration as Crestron – KNX Connected® devices, they set new standards for seamless interoperability within smart automation systems.
THE PERFECT MATCH WITH YOUR SPACE AND STYLE
From eclectic urban loft to neoclassical home, hotel suite, from minimalist conference room to modern yacht's sky lounge, Black Nova keypads are the perfect match for any space and style.
CREATIVE THOUGHT MEETS LATEST TECHNOLOGY
Black Nova keypads can seamlessly connect with a wide range of third-party systems, becoming the modern interface to control your stylish living environment. Our products are crafted using the newest technology with relentless passion to meet the most challenging requirements.
A TRIBUTE TO MINIMALIST AESTHETICS​
ARIA Collection elicit straight lines, pure shapes, and completely smooth surfaces. The natural simplicity of these glass keypads can complement any modern interior. ARIA is minimalist in its' essence.
THE EPITOME OF ELEGANCE AND FUNCTIONALITY
The translucent panels coupled with sophisticated touch controls are a visual treat. Remember the awe you felt the first time you saw a piece of clear crystal? ALBA GLASS® evokes a similar emotion.
UNIQUE AND BESPOKE LUXURY
More than its striking appearance, the ALBA METAL® offers seamless integration with other smart home systems, ensuring that homeowners get the best out of their investment.
THE PURSUIT OF EXCELLENCE​
This collection stands out, not just for its unique design but also for its impeccable functionality. It's like owning a piece of art that also controls your home.
Crafted for the modern homeowner, AXES® combines sleek designs with top-of-the-line tech features, ensuring that your home is not just smart, but also elegant.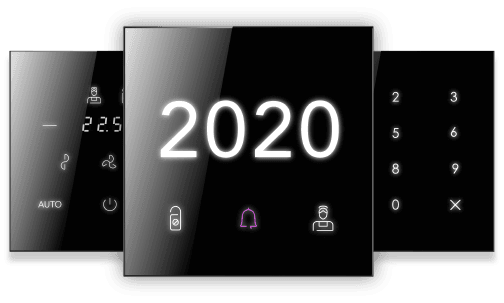 THE PURSUIT OF EXCELLENCE
ANY is a multipage smart keypad, created to surprise and delight users with its' unique interaction experience and functions. Crafted with premium materials like marble, wood and crystal, ANY deserves a status of an avant-garde piece of art.
Black Nova keypads and touch panels embody the fusion of exquisite Italian design, premium materials, and innovative technology. Now Crestron Connected® and KNX devices, they offer seamless interoperability with  smart home, Commercial and   luxury hotel systems.