You Are Control with single application
Just one app on your phone or tablet controls everything in your home: TV, music, lights, shades, alarms, cameras, door locks, and more.
Voice control via Siri, Alexa, Google Assistant and Josh.
Monitor and control your home from wherever you are.
Modern control for modern Beyond users
Keypad
Touch screen
remote
smart watch
mobile application
voice control
Use the best mobile app on the market
Revolutionize Your Lighting Experience: Control Lights Individually or All at Once
In today's fast-paced world, where convenience and comfort are paramount, imagine having the power to control your home's lighting with just a push of a button. Thanks to cutting-edge technology, this vision is now a reality. With the latest advancements in smart home lighting systems, you can take full command of your lights, adjusting them individually or all at once to create the perfect ambiance for every occasion.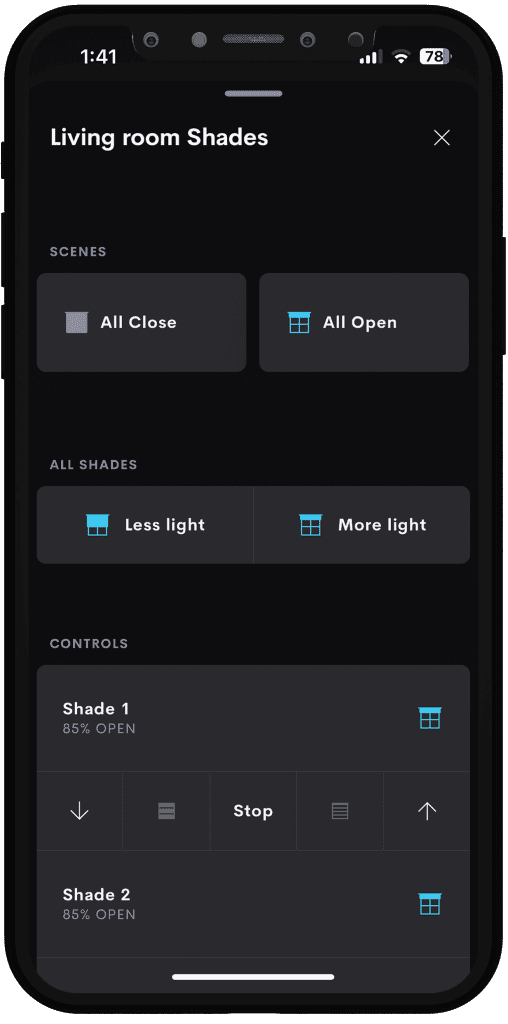 Motorized Shades and Drapery Systems Transform Any Room into a More Spectacular Space
The beauty of a well-designed room lies not only in its furnishings and decor but also in the way natural light filters through the windows, creating an inviting and dynamic atmosphere. Motorized shades and drapery systems are revolutionizing the way we interact with our window coverings, elevating our living spaces to new levels of comfort, convenience, and aesthetics.
Intelligent Temperature Control: The Key to Ultimate Comfort and Relaxation at Home
Imagine returning home after a vacation to a cozy and welcoming atmosphere, even before you step through the door. Envision your home automatically adjusting its temperature based on the outside weather, the season, or the time of day, creating the perfect ambiance for your comfort and relaxation. It's more than just programming your thermostat; it's the magic of intelligent temperature control that transforms your home into a haven of comfort and relaxation.
Enhance Home Security with Automation: Experience Peace of Mind
Home automation offers a new level of control and convenience when it comes to home security. The ability to remotely access and control your security systems, monitor cameras in real-time, and implement automated security routines ensures that you have the ultimate peace of mind.
Effortless Entertainment with Automation: Elevate Your Home with Multiroom Audio
Automation and multiroom audio solutions have revolutionized the way we entertain in our homes. With effortless mood setting through automation, you can create the perfect ambiance for any occasion with a single touch. Multiroom audio solutions take entertainment to new heights, enabling you to enjoy different music in different rooms and providing a customizable and immersive audio experience
Elevate Your Viewing Experience: One Touch Optimization for Every Content
Elevate your viewing experience with one touch optimization for every content type. From cable TV to streaming services and gaming, an integrated control system ensures a unified and effortless entertainment journey. Customize your display settings, tailor audio preferences, and streamline smart home integration to create the perfect ambiance for every moment of entertainment.